Why right now is the best time to visit Rome – a note from our CEO
It's been three months since Emanuele Buffa (the CEO at From Home to Rome) has written about his feelings for his birthplace during the Coronavirus emergency (you can pull up that text here).
Now that life is steadily going back to normal in Rome and everywhere in Italy, Mr. Buffa has done what many other Italians have been doing during Phase 2 of this lockdown easing: exploring their cities, discovering new shops, eateries and experiences around every corner. What follows is an eyewitness account, if you will, of why this is a time like no other to visit Rome, with his own first-hand newly found understanding of the Eternal City.
For the first time in thirty-six years, I spent the whole of last weekend in my hometown, Rome, and I loved so much being there as a "tourist".
I stayed at the Black&White apartment, opposite the Antiqua flat, where some of my Roman relatives were also staying. This was perfect for getting together easily, yet having enough room and privacy for everyone. Romans on holiday in Rome, what fun!
A glorious sun shone upon us, with the city parading brightly with all of its wonders.
A weekend in Rome like no other
We got to the city center on Friday evening and went out for a walk right away. While strolling along the Via del Governo Vecchio, we noticed plenty of bars and restaurants had their own outdoor seating areas, including some that did not before Covid-19 hit. There's plenty more space for people to sit and eat meals or enjoy drinks.
We stopped for pizzas at one of the best places downtown: "Pizzeria Montecarlo". We were seated in only 5 minutes, whereas it'd usually take way longer. All the tables were fairly distanced to abide by the new regulations.
We paid €20 each for an array of fried starters, Margherita pizzas and beers, all served by prompt and friendly staff.
After dinner we wandered to Piazza Navona, which the children in our party loved. Scenic fountains were lit up and water ran – mementos of the long, complex history of the Eternal City.
There were people around, mostly Romans and Italians with a few foreign visitors in a laid back atmosphere. I could hear many say "how beautiful Rome is", or "I never saw it like this" and "I never really experienced it this way."
What Rome feels and tastes like these days
After a fitful sleep, on the next morning we strolled from the Via dei Coronari to the Borghese palace area, and all the way up to the Spanish Steps.
Drinking clear water from Bernini fountain was most refreshing, and climbing the shiny staircase in tranquility was unique. All shops are working as usual, with a few restaurants that are not, but locals' favorite eateries are open indeed, so we easily avoided any tourist traps.
We went with Sofia at Via Capo le Case, as they feature an Italian-based menu with a few variations and twists. Their offering also includes typical Roman dishes. Valentina, the maitre d', was more than welcoming, and the food was amazing.
At any restaurant, everyone is required to wear their face masks indoors when moving around (say: entering and exiting, heading for the toilet…). You can take your mask off while eating, of course, and there's no need to be anxious: you can enjoy your meal with your party without any worries, as your table is well-distanced from all other ones.
Our walk in the city center continued to Trevi Fountain. Wow! I'm used to walking the streets downtown because of my job, I often get across this spot with the many one-day dwellers as they get off their tourist buses, and I certainly love that tourists come visit my hometown. However it's quite unprecedented to be able to admire this world-known attraction like this: under present circumstances, there are no crowds and you can truly appreciate all the minute details in the statues and architecture.
Next, we headed for the Pantheon. Having been let in after queueing shortly outside and being subjected to a thermal scanner examination (to detect our temperature), there were about 30 mask-wearing people inside – rarely have I ever seen such a small crowd admiring that impressive vault!
Between a legendary castle and the river Tiber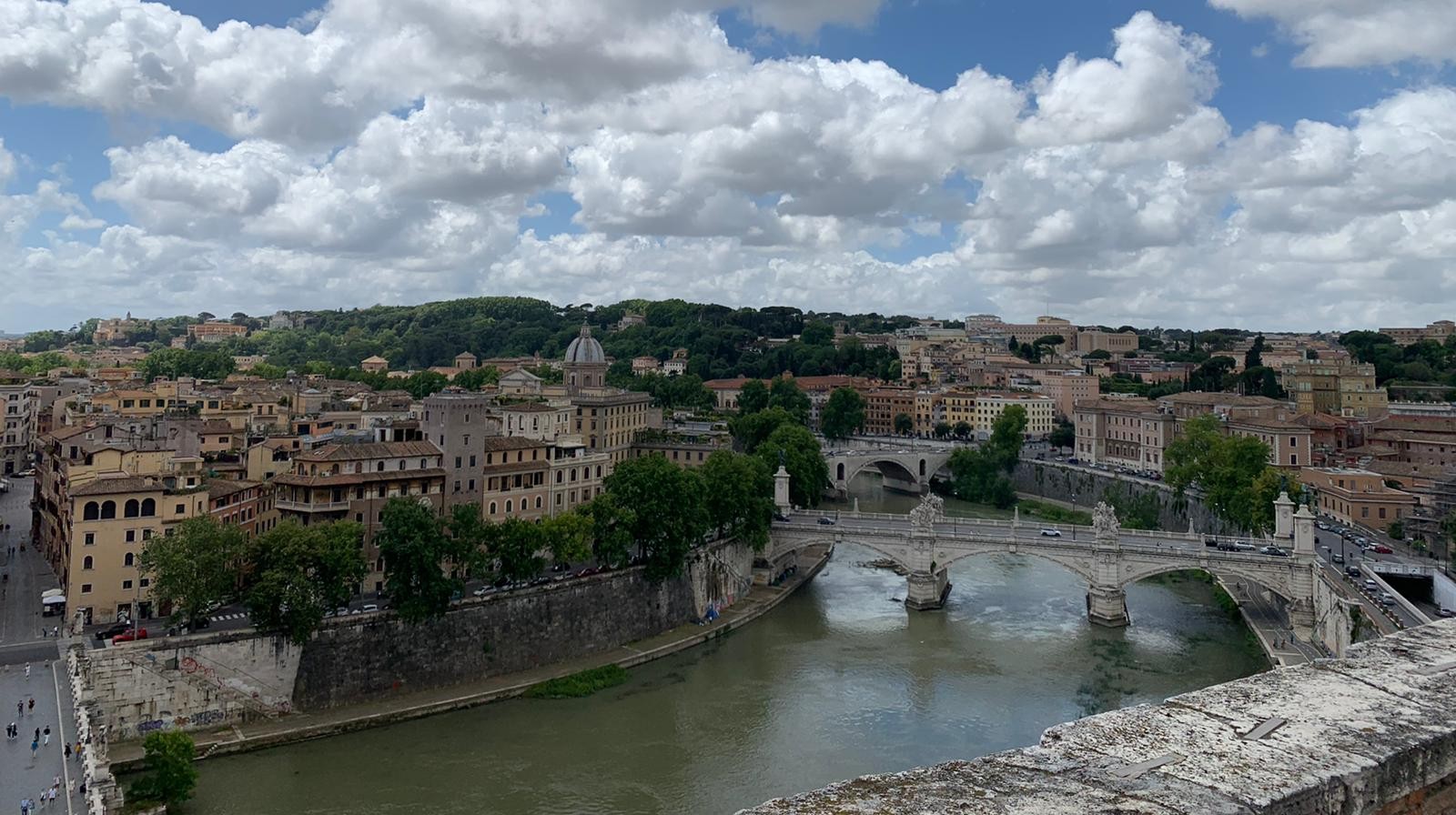 The next day was even better, being my first time at Castel Sant'Angelo, the stately and magnificent tomb of a Roman emperor which different popes refashioned at different times.
Despite its proximity to the Vatican, tourists don't usually pay a visit inside the castle. And neither did I! Now I can say that it's absolutely worth the price of the ticket there: not only for the layers of history there, but also because of one of the best views over the city center of Rome. By the way, if you're wondering: upon entering, our temperature was tested again.
We had lunch across the Ponte degli angeli bridge at the local forno (bakery) – We had pizza again, and panini, picking our favorites out of a display. We were lucky enough to have seats outside, with a great view to elevate our humble street food.
What followed was more of a "digestive walk" down the bridge, as we ambled down the River Tiber at water level. I had never realized how rich in plant and animal life this part of the city is. I wonder whether nature has been brought back to the city as a consequence of the recent lockdown. Anyway, it was very pleasant to walk alongside the bikers who were rightly enjoying their dedicated lane.
We "re-emerged" from our river stroll in Trastevere, where we found our way through the alleys into the Santa Maria Basilica, one of the most beautiful churches in Rome (there are so many, aha!) Bar terraces were tempting enough, if it wasn't for the fact that we had a specific gelato shop in mind, one children and grownups were longing for. We had the perfect, sweetest ending to our "cityscape".
My final thoughts on this "Roman re-renaissance"
Everything and everyone in the city is calmer. And I feel reconciled with my own town.
If you can make it to Rome now (Schengen borders have been reopened to the large majority of European travelers, with more countries opening up by the week) I really suggest you take this opportunity.
You will get to see it as the occasional tourist did more than 60 years ago: no crowds, empty alleys, very manageable queues. And your health will be safeguarded at all times, through frequent checks and social distancing. As numbers for Covid-19 positive cases keep shrinking (just two new cases in the Lazio area as I write this!), consider coming and seeing for yourself: you won't be able to enjoy Rome like this again – it's the best experience ever!