From Home to Rome's 5 best terraces: super houses with a view!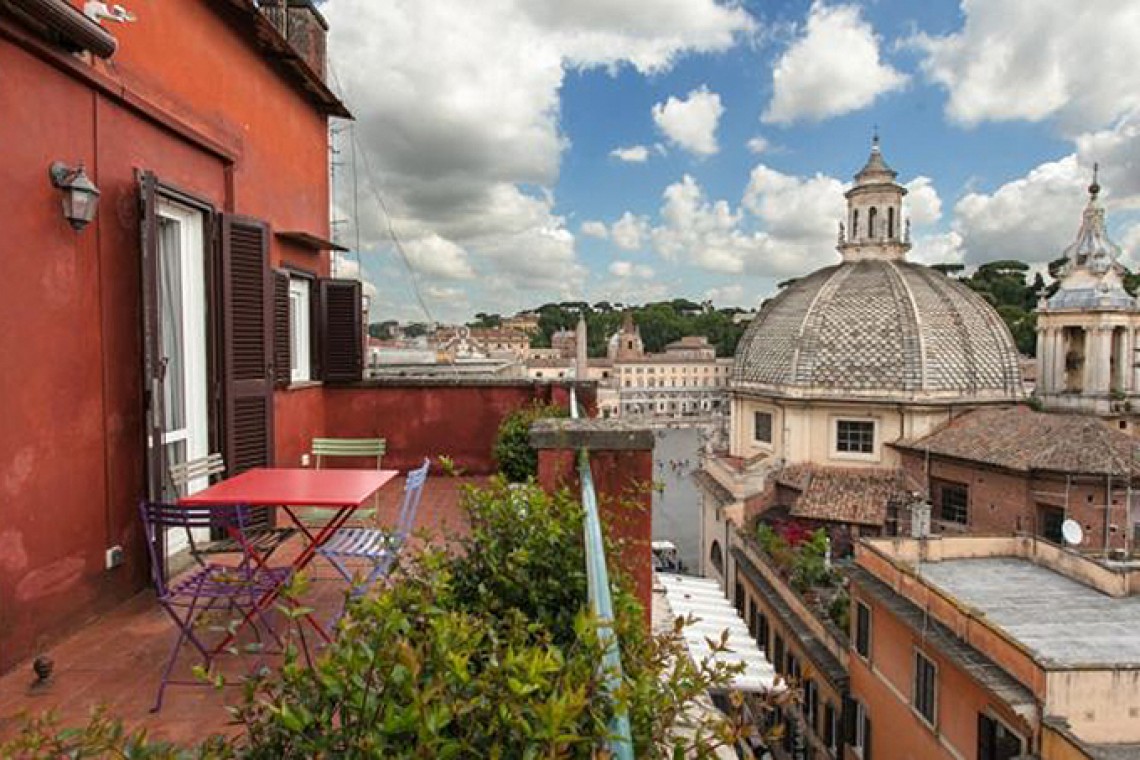 The data are in (website in Italian): after the lockdown ended in Italy, people rushed to book holiday accommodations that had everything their regular flats and houses did not: open spaces like gardens or patios, and maybe even a pool or spa. In big cities, terraces are a particular sought-after convenience: we can't fault future tourists for looking for those and, if anything, we'd like to offer some advice!
So, in the spirit of suggesting the perfect place to recharge and elevate your spirit, here are From Home to Rome's 5 best terraces: 5 flats in the center of the city that are unlike anything else you have seen in Rome!
Via delle Mantellate: can Trastevere be anymore quiet? (Hint: no!)
For those who think of Trastevere as "just" a party-hard neighborhood in Rome, think again: the northernmost tip of the district across the river, past Porta Settimiana gate and down Via della Lungara, offers a completely different scenario. Sure, there's fewer shops here, but you can also find more locals than anywhere else in the same area, and stunning museums and attractions (a few examples: the Botanical Gardens, the Galleria Corsini Museum or Villa Farnesina).
And then you've got this: a lovely 1 bedroom flat in an unassuming alley revealing views over the Janiculum Hill and the stunning, 18th century-built Villa Alibert. A mysterious palazzo whose architect remains an unknown, it's a magnificent find in this part of Rome, and one that grants complete silence minutes from the hustle and bustle of the lungoteveri and Vatican City.
The terrace at Via delle Mantellate (named after an order of nuns who, obviously, knew this place was conducive to their meditations!) is shielded by the upper floors and shady, and it's a perfect extra space where to have your meals or just an all-round lovely time reading or listening to some music.
See the listing for Via delle Mantellate here.
Paradiso Penthouse: let yourself be wowed by Rome
We're sure there are parts of central Rome you cannot see from Paradiso Penthouse, but what you do get to see from its two terraces more than makes up for it. You've got the Villa Borghese gardens and Piazza del Popolo, Quirinal Hill and Trinità dei Monti.
And you've got life in Rome flowing right below you – people coming and going, shopping and working, studying (the Fine Arts Academy or the Santa Cecilia Academy are both steps away from your door) and having fun. Such a perfect place to enjoy peoplewatching, and to fall in love with the city over and over again. And the apartment (which sleeps 4 people) is not too shabby, either!
See the listing for Paradiso Penthouse here.
Pellegrino 11: a room (outdoors!) of your own
Prepare to fall in love with the concept at Pellegrino 11: while this accommodation is a newly renovated studio that comes complete with a furnished one-wall kitchen, it sits on the top of a historic Medieval building.
We're just around the corner from Campo de' Fiori and in the middle of central Rome, right on the path once walked upon by hundreds of thousands of pilgrims headed to Vatican (hence the name of this flat).
While the terrace was originally and presumably used as a communal space for hanging one's laundry, today it can be all yours, for a weekend or even for longer. Just take into account that the building it sits on is listed, and therefore no elevator could be fitted here: the climb is steep, but it's oh so satisfying to have this terrace all to yourself!
See the listing for Pellegrino 11 here.
Clock Terrace House: a lovers' nest, high up on the roof
Clock Terrace House owes its name to the spectacular clockhouse designed by none other than Lorenzo Borromini that stands opposite its terrace. This astounding flat occupies two floors of a Baroque-era (but elevator-equipped) building just off Piazza Navona, on Via del Governo Vecchio.
The floorplan may seem a little odd: downstairs you've got the apartment proper, furnished in a distinct, classic Italian style, sleeping a maximum of 4 people. But up a flight of stairs and behind a locked door, is a lush terrace-cum-porch where you can enjoy a sunbathing session, or even just a scrumptious meal (the porch bit is complete with a kitchenette you can use to avoid the back and forth with the actual flat).
It's a perfect spot for a couple, romantic and dreamy. But if you want to enjoy it with your family, you're equally going to enjoy it!
See the listing for Clock Terrace House here.
Casa del Fico 9: more peoplewatching, by Piazza Navona

Another listed building, which means another climb to a lovely little terrace.
The one on Casa del Fico may not be as large as the other ones we listed above, but it is as spectacular: it overlooks one of Rome's hottest spots for nightlife, which is indeed Piazza del Fico, with its cocktail bars, lounges and restaurants.
Inside, this quirky, unique apartment can sleep up to five people over two floors, with the upstairs designed to resemble the deck of a sailboat. The terrace is quintessentially Roman, with terracotta walls and a thatched roof where you can enjoy an aperitivo or just look down at the Grande bellezza of Italian nightlife at its finest.
See the listing for Casa del Fico 9 here.