Life under lockdown: voices from From Home to Rome
by C. P.
March 17, 2020
6 Comments
Following the lockdown announcement by prime minister Giuseppe Conte, we've received a number of emails and messages asking how Rome (and Italy at large) is handling the Coronavirus crisis and the extended quarantine measures. 
This post is meant as a source of first-hand information, as well as an outlet for the staff at From Home to Rome to engage in something different, while exchanging experiences at the same time!
Emanuele is the CEO and founder of From Home to Rome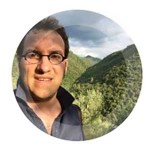 Airbnb hadn't yet been launched when I founded From Home to Rome as "Vacation Rental Apartment" in 2007, using my family's two flats in the city center.
I told my parents that I thought it was a good idea to rent their apartments to vacationers and although I was very young, they trusted me. Starting in 2007… I've been doing this for 13 years. In the meantime I worked several jobs until in 2014 I decided I wanted to turn this side job into a full-time business. For the past 6 years, I have worked relentlessly with my friend and business partner Sara to grow From Home to Rome. We started with 5 apartments and to date we manage a portfolio of 60 properties on behalf of their owners. 
We believe in what we do and do it with care and we are always available to meet the needs of our clients, relying on a fantastic team that includes Clementina, Marta and Flavio. Although we work as an agency, every guest is like the very first one.
Today is the very first day when I didn't have to think of the guests in our managed apartments. I feel like an orphan: I have no one to take care of, no one to give advice to and no one to solve problems for.
This is a time for me to ponder. About what I do, who I am and how I do it. I am not in a position to look ahead because the uncertainty of this moment does not make my job an easy one, but I can certainly look to the present and the past.
I look at the city where I was born and where I live every day with somehow different eyes, the eyes of someone who's in love. I've never lingered this much to look at Rome. Every corner is beautiful and I have to say that although we are in lockdown mode, it is moving to enjoy the most beautiful monuments in the world without anyone in sight. Very few times during the year you can admire the city like this, but to be fair Rome is never as empty as it is now. These days we've got a beautiful light, the sky is blue and the sun shines on the stunning Eternal City.
It's true, we are in lockdown, stuck inside our houses and are not allowed to leave the city, but I agree with whoever said that we are not the only ones who are quarantined: all the people who can't experience and visit this beautiful city, the churches, the landmarks, stop in a trattoria to eat pasta carbonara… They're on lockdown as much as we are.
Life under lockdown is odd. We seem to have re-discovered Skype and meetings and activities are carried out through this software. Every Tuesday I take a drama course, in May we should be debuting a show at the beautiful Villa Torlonia theatre, so our teacher Fabrizia decided to move the classes on Skype. As does my personal trainer.
My parents have been locked inside the house for several days too. My mother, is not your average Italian mamma, but she suddenly started to cook. Today she baked some lasagna for me, for Sara and also for a friend from the south of Italy who is far away from her family, she left them with the doorman and I picked them up on the way home… And she is already planning another delicacy for next week.
It's nice to see that whatever the circumstances, we are finding ways to move forward. There is a special energy around, a strong Italian sense of pride.
Surely this moment will give us all more awareness about who we are and where we come from.
Italy will come back from this and it will be a more beautiful and stronger Italy than before. I am sure it will.
Sara is the co-founder at From Home to Rome
At a time when the whole world seems to be at a standstill, some people's work remains unchanged. And it is thanks to this, in an absolutely momentous point in time, that I was able to finalize the purchase and sale of my first flat! I was able to place the most important signature of my life to date with the lady who sold the property to me, the bank manager and the estate attorney: all of us strictly wearing gloves and surgical masks.
There is joy mixed with concern – they will stay with me over the next few weeks. In the meantime, thanks to the lockdown, I finally have plenty of time to pack up all my belongings and get ready to move. Maybe it is a good omen: a new beginning, even if in such a difficult situation.
Our days in the meantime are marked by the flash mobs set up from our windows and balconies at scheduled times: at 9PM it's flashlights to the sky to show the world we're still fighting, or a collective applause at noon for all nurses and doctors working tirelessly, as well as much loved songs and the national anthem at 6PM. Life goes on, even from a distance.
Marta is a reception agent at From Home to Rome
These are strange days here for all of us. You might say they're unique! Almost 3 years ago I started a new job that opened up a whole new scene that has always fascinated me: the world of hospitality in my hometown, Rome. I have always been very attached to my city… It is something great and very important to me, and having the opportunity to welcome enthusiastic travelers in characteristically Italian apartments is exciting for me!
All of this is topped with a tried-and-tested team with which we manage a steady stream of work. The sharing of "joys and sorrows" covers a huge part of our daily lives and it is strange to suddenly be missing all of it!
These days are unique because my city, which has always been busy, crowded, alive for thousands of years… Is not so any more. It may seem sad, but I think this will also mark a rebirth, and not only for Rome but for all of us worldwide. With Italians first and foremost, hopefully. We are experiencing another kind of life in the true sense of the word. I can't walk around, I can't visit the monuments, I can't reach the city centre by moped… 
We are like in a time bubble but this condition will be an opportunity for all of us. Soon I will experience my city again, and I will start again to welcome and take care of the many travelers who are lucky enough to soak in the magical atmosphere of "my" Rome, but now I want to take this time to devote more time to myself, taking care of my family. Family is so important here! Having these unique days to be together will give us the chance to rebuild our communities, when the time comes, even stronger and more vital than before. See you again soon, Rome <3.
Clementina works in back office at From Home to Rome
Back in school, when teachers were explaining the concept of revolution (whether industrial or otherwise) they used to describe it as a radical change.
I believe that we are in the middle of a new sort of revolution, that will bring with it a wave of change where nothing will be as we left it before we dove into this surreal season. My head is busy with thoughts: when will we get out of this? what happens next? One thing I do know for sure, however, is that I'm making a list of everything I'm going to do when we will be able to go back to breathe a bit of "normalcy".
Flavio is an operation manager at From Home to Rome
Truth is, life hasn't changed so much: we're just a little more "secluded". My partner Federica at the very most went for walks with our little girl and she can't do that anymore. Days have changed a little more as far as I'm concerned, because I'm spending more time with my baby girl Lavinia. It's the silver lining to all of this, although I'm now realizing just how exhausting that can be. It's like the joke Sara makes all time, that I come to the office to get a little rest! Well it's not entirely true, but it's a good approximation!
Lavinia can be a demanding child. She herself has realized something is off so she's in a constant frenzy to… Like the other day, she took the stairs for five floors, she's learned how to climb the stairs for one week. Or we take her around the building's parking lot, like one would do a horse to pasture! 
Her grandparents are taking it much worse than we are, as they cannot spend time with her, so they're constantly Skyping. The other day as soon as Lavinia saw my mother she reached up to her, because my mother picks her up all the time. She even went around the computer monitor to "find" my mother and got angry because her grandma wasn't there! In the meantime, Federica is happy that she can finally boss me around, I tidy up the house, I iron the clothes, I clean the bathroom… That's the way things are going.