Recommended daytrip from Rome: Viterbo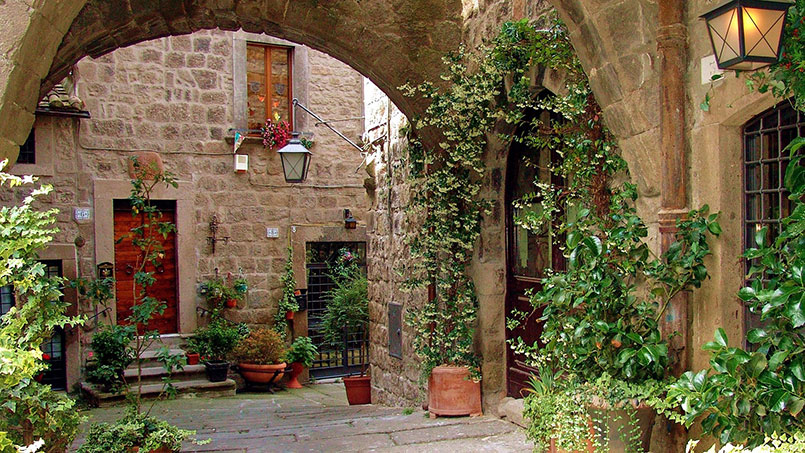 A mere 90 kilometers north of Rome, at the end of a train line popular with university students but rarely explored by tourists, which cuts through a picturesque part of the Lazio region, Viterbo is one of Italy's best kept secrets.
A stunning medieval city
A onetime Etruscan stronghold, its most prominent features are its walled city center with its winding, narrow alleys dating back to the Middle Ages.
It is nicknamed "City of the Popes", as for several decades a number of pontiffs ruled from here rather than Rome. The Papal Palace, as a matter of fact, remains the most visited monument and the most recognizable landmark in Viterbo as well as its Cathedral, while the ancient San Pellegrino district is one of the most photographed areas of the old town, due to its perfect state of preservation.
Tradition, food & well-being
Also worth mentioning is the Feast of Santa Rosa, held each year in September, when a number of worshipers lift a miniature bell-tower weighing several tonnes and carry it through the city as a sign of devotion to the patron saint of Viterbo: called the Macchina di Santa Rosa, the celebration attracts people in the tens of thousands from all over the region.
Viterbo is known for its cheap & excellent restaurants, the quality of some of its local produce (which includes hazelnuts, chestnuts and peaches) and its local specialties, among them pangiallo, Pane del Vescovo, frittelloni or the fish from nearby Lake Bolsena. Also from the area around Lake Bolsena is one of the most famous wines around here, the Est! Est! Est! wine.
We would, of course, be remiss if we didn't mention the most attractive of Viterbo's features: its spa baths. Terme dei Papi, the name of the main establishment, has been continuously in operation since 1235!
Located between Viterbo and Orvieto is Civita di Bagnoregio: a daytrip to Viterbo could include a visit to the world-famous crumbling city, although many other towns close to Viterbo are equally deserving of a stopover. A non-exhaustive list would have to include:
– Bomarzo and its "Monsters' Garden", a park with grotesque sculptures dating back to the 16th century;
– The mannerist Villa Lante in Bagnaia;
– The magnificent National Etruscan museum & necropolis in Tarquinia;
– The cathedral in Civita Castellana;
– Caprarola and its palace, Villa Farnese.
How to reach Viterbo
Getting to Viterbo, as mentioned, is done easily by train: it's a 1h30/2hrs ride from Rome depending on the train station you pick as your starting point. The city is at the end of the FL3 regional train line. If you're interested in visiting any other towns outside Viterbo, we recommend renting a car there, or contacting our partners at Gianni Conti Car Service to arrange for a private car to take you there and back to Rome, discussing stops and points of interests with local experts!