From Home to Rome's DormodaLady now on Airbnb Plus!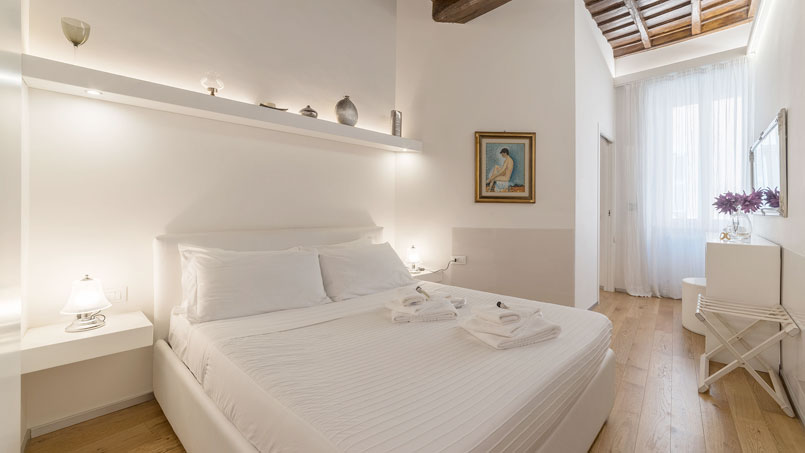 From Home to Rome is happy to announce that one of our managed apartments has been allowed to feature on Airbnb Plus. Dormo da Lady is located by Trevi Fountain and has been one of our best performing vacation rentals for years.
Airbnb Plus, which was recently launched by Airbnb, recognises the very best in those rental apartments or rooms worldwide appearing on the famous website and is invite-only. Dormo da Lady – as all other rentals participating in the new scheme – was inspected in person by Airbnb's thorough staff and found to comply to the standards of this selection, which include over 100 criteria. Among them:
A cohesive interior design: the decor at Dormo da Lady is a fascinating mix of classic Italian elements and contemporary furnishings;
Easy check-in process: a lockbox, keyboard and in-person handoff are all available at DdL;
Printed house manual is available: see here for more on our "books"!
Fast Wi-Fi and TV: Dormo da Lady features a smart-TV with Netflix and Apple TV available;
Bathrooms: every bathroom has a hair dryer, shampoo, hand and body soap and features large showers, with sets of towels available for every guest.
Kitchen: has appliances and equipment available to prepare meals and beverages, including tea and coffee.
From a well-lit entrance to the available air conditioning and heating, from the quality of the available linens to the cleanliness of the apartment, the acknowledgment by Airbnb is something we're particularly proud of!
The complete description for Dormo da Lady can be found at this address.