The best rooftop bars in the city – as chosen by From Home to Rome!
With this year's weird winter finally gone, one of the major attractions in Rome is making a comeback: rooftop bars!
With so many hotels and restaurants in the city center's grand old buildings, roofs often turn into fully-fledged extra quarters for these establishments. Due to the mild climate in the city they can be enjoyed for several months and are open to everyone.
They're exclusive and (most of the times) expensive, and for good reason – the view they offer is spectacular and the food is often times Michelin-starred.
So that's why, with no further ado, we selected a few favorites throughout the city. With a final twist (or two!). Enjoy!
Terrazza Caffarelli
This location has one of the most beautiful views over Rome, but is somehow ignored by the masses, as it lies on top of the Capitoline Museums – which is never overrun with tourists. Call it a hidden gem on top of another gem. What's more, this is probably the cheapest rooftop bar in this list.
Hotel Raphaël
Just around the corner from Piazza Navona, this hotel also features a restaurant called "Mater Terrae", based on organic & vegetarian dishes. The terrace offers a 360° view on the surrounding rooftops.
Posh @ Palazzo Naiadi
Bigger than your average rooftop bar, on account of being located on top of the huge Palazzo Naiadi hotel, this place, which is also a restaurant, offers a stunning infinity pool. Prices are more expensive… As the name suggests.
Zuma
A luxury Japanese restaurant and lounge bar on top of Palazzo Fendi, the main boutique of the celebrated fashion brand. Right in the middle of the Tridente area, so within walking distance from Via del Corso and the Spanish Steps.
Terrazza Borromini
Also by Piazza Navona, one of the most popular choices for drinks outdoors without leaving the city center!
Feria @ Lanificio
For those craving a locals' hangout, look no further than this rooftop bar (but you can also grab a quick bite here) on top of a former wool mill (hence the name) in the Pietralata district. You will need to reach the place by taxi – but you'll be rewarded by dramatic sunsets and a relaxed vibe. And if you want to stay longer for a proper meal, there is a proper restaurant on the ground floor. Or cross the street for many other options!
Up @ La Rinascente department store
One of the most recent additions to the Roman rooftop scene, this "sunset bar" by Trevi Fountain (so across the street from such accommodations as Avignonesi 10 or Dormo da Lady) is open every day from 10am to 10pm – it features a restaurant, a café, a cocktail bar… and don't miss out on their cakes, if you have a sweet tooth!
The Corner Townhouse
Run by chef Marco Martini on the enchanting Aventine Hill, walking distance from our newest managed property @ Annia Faustina, this boutique hotel also features a restaurant and a cocktail bar.
Caviar Kaspia
On top of the Alda Fendi Foundation (we talked about it here), this French restaurant offering caviar-based dishes triples up as a café and bar. The building overlooks the stunning Arch of Janus and the back of the Fora – it doesn't get any better than this!
Macro 138 @ Macro Museum
If you're after a more contemporary setting, the spectacular, Odile Decq-designed Macro building is a must-see. Not only the access to the museum is currently free-of-charge, you can also get to the roof for quiet drinks or a meal, undisturbed by the usual hordes of tourists, noticeably absent here.
Two extra, exclusive tips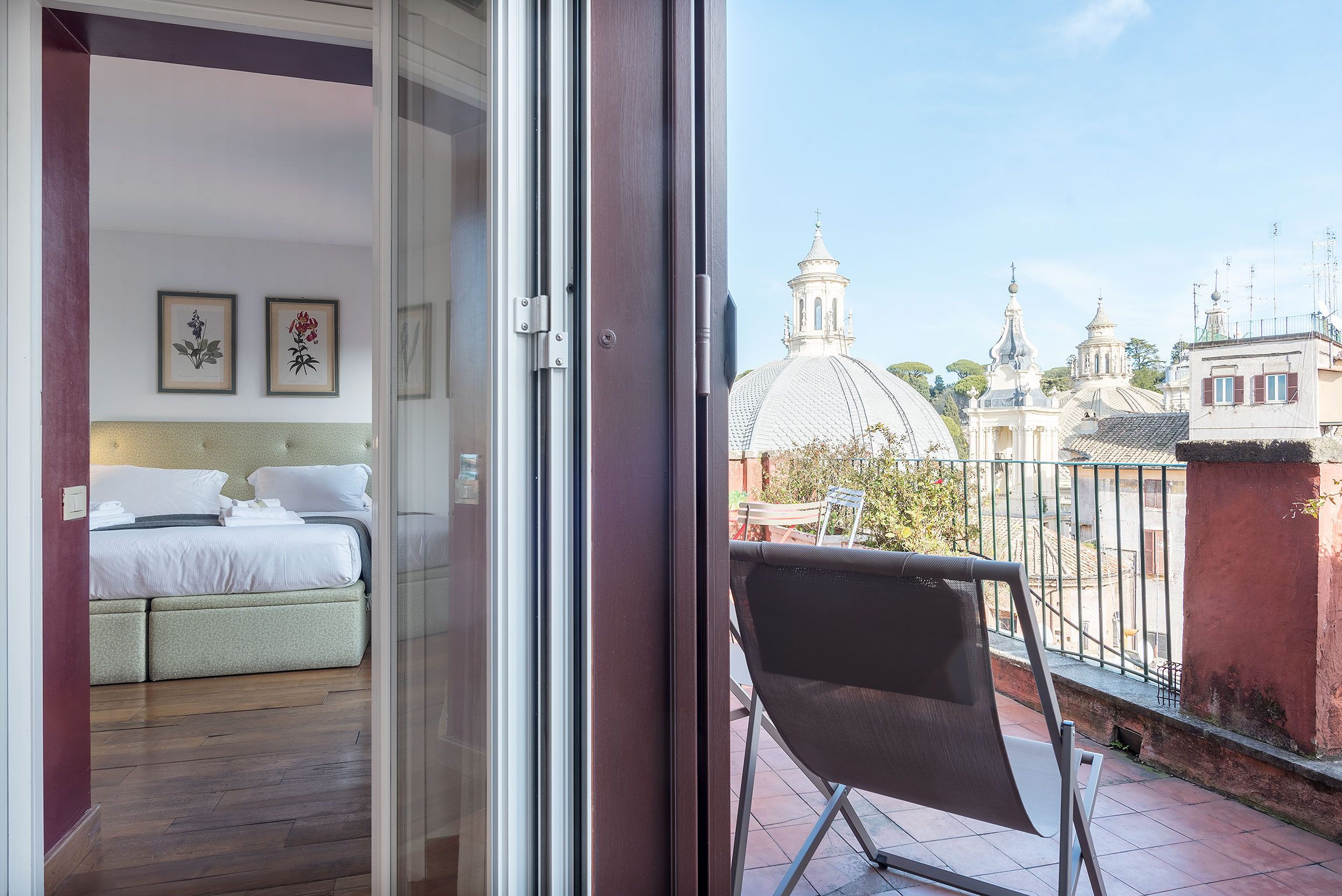 Finally, if you want to have drinks on a roof, you don't need to spend hundreds of Euros for those! Some of the apartments we manage feature simply stunning rooftop terraces. And what's more exclusive than having a rooftop access all to yourself? If you're looking to book your holiday in Rome and are interested in this extra space, browse our catalog of available accommodations, particularly Paradiso Penthouse and Via Gallia: you'll find your perfect place in Rome in minutes!