Summer in Rome: open-air cinemas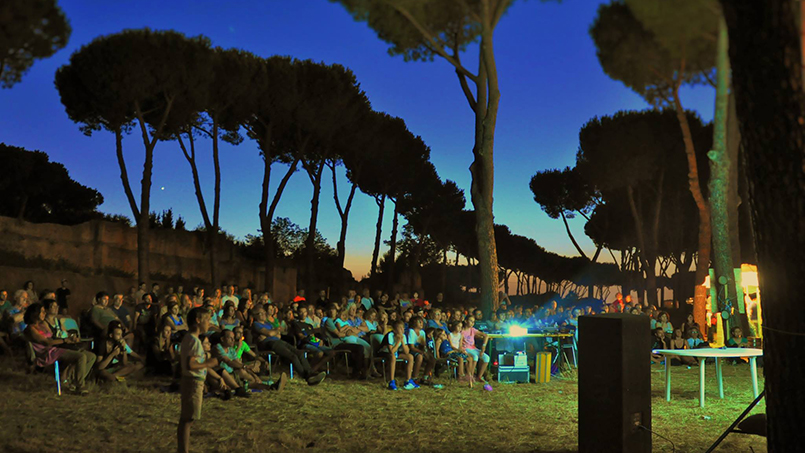 Just as other cities relying on a mild climate, Rome is no stranger to the "relocation" of its culture and entertainment scene in open-air locations during the warmer season. Summer in Rome means that there is lots to do outdoors: from attending concerts to literature festivals, from food events to experiencing opera and ballet in archaeological areas… You can actually get to enjoy more of the city thanks to the (much!) longer days, and you can go out after dark not just to look for a good restaurant or bar but to experience more of the "Urbs Aeterna", mingling with locals as you go!
One of the most frequent happenings that you can enjoy in the Capital is open-air showings of both recent and old movies. It's a chance to cool off in beautiful piazzas while catching up with some of last season biggest offerings, and sometimes, re-discover the magic of cinema's great masterpieces on a big screen.
Every major residential area of Rome hosts at least one of such festivals, and the city center, closer to your accommodation, is no exception. These are some of the retrospectives we recommend checking out while you visit the Capital:
L'Isola di Roma
Tiber Island has long hosted a series of cinema-focused events on its beautiful banks. This year it doubles down with concerts and book presentations, too, but in the meantime check out the huge calendar of events, with an entry fee of around 7 Euros, running until early September.
Cinema America
Founded by a group of young movie professionals who got their name from a closed down theater in the center of Trastevere, for the third year in a row this festival will have movies shown in beautiful piazza di San Cosimato in the middle of the borough there, with more open-air cinemas at the seaport in Ostia and in Casale della Cervelletta in North-East Rome. Famous movie actors or directors often show up to talk about their works. Free entrance.
Notti di cinema a Piazza Vittorio
The oldest running retrospective in Rome, much loved by young families in the Esquilino district. Shows both new and old movies. Entrance fees vary depending on what's shown.
Casa del Cinema
Right into the park at Villa Borghese, a lovely way to enjoy themed retrospectives on a big screen & al fresco. Obscure or restored movies are frequently shown here. Free entrance.
Most other "arene", as they are called in Italian, can be found on the official site for open-air cinemas in Rome at Arene di Roma.