Solidarity & Coronavirus: Romans take care of their own
by C. P.
April 17, 2020
0
You saw the flashmobs, you heard the singing, however that's not all there is to Italians (and Romans) during the Coronavirus emergency.
Rome's sense of community has had a boost since the lockdown began, and this post shines a light on the city's most heartwarming stories and projects to help the most vulnerable members of society, with first in line the aged and chronically sick.
Food for those in need: a few select examples from all over the city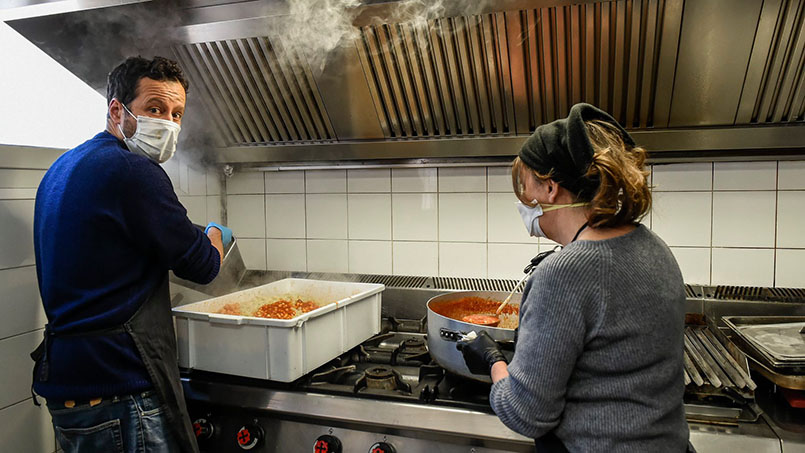 In the heart of the Garbatella district, Casetta Rossa is a social and cultural space hosting different types of events – book presentations, conferences and more.
One way the center funds these is by operating as a restaurant. During the crisis, workers there have decided to re-open to prepare meals for those in the area who have lost their job or can't leave their homes (senior citizens, people with special needs or reduced mobility…).
The Comitato popolare San Basilio ("San Basilio's popular committee") has existed since time immemorial in the suburb north-east of the city center, but has doubled up as the Coronavirus is raging to help residents get their medication or their groceries.
Sparwasser, in the trendy Pigneto area, is known as a live club and co-working space but, in the weeks since the beginning of the lockdown, it has launched a series of ideas to help the neighborhood – among them, an online tutor service for kids studying remotely, or a contact point to get job-related help for those recently unemployed or unsure about their rights as businesses have been asked to close down.
Similar ventures have started in a number of districts of Rome: gradually, they get advertised on this useful Facebook page (in Italian).
The "suspended grocery shopping" idea
Part food aid program, part "suspended coffee" (if you're not familiar with it, read on at this address), this idea has started in several Roman neighborhoods before the government and municipality of Rome, respectively, unveiled their own projects to get food vouchers to those in need. Do note that the same scheme exists in all of Italy!
Participating grocery stores and supermarkets are offered different items of food by their customers who leave them by the cash desk – those in need pick what they cannot buy themselves. An alternative version sees people paying anonymously for the groceries of those coming in who don't have enough money for them.
Sharing your wi-fi network with students in need
In Dragona, south-east of the city center and close to Fiumicino, Mrs. Federica Santucci has had a genius idea to help those students who need to follow their classes but don't have enough money for a fast Internet connection: asking people to share their passwords.
More neighborhoods and areas of Rome have been following suit.
No-profits organizations at work: for the homeless, migrants and more
Of course the city of Rome is home to a number of non-profit organizations who are working tirelessly to provide essential goods to people in a fragile state. Among them Red Cross Italy, as well as Sant'Egidio, who works mainly with the homeless and migrants in the city.
On top of offering meals in soup kitchens, again they guarantee food and medication to people stuck at home with no sufficient income.
Possible donations – how to contribute
Hospitals, charitable organizations and NGOs have set up dedicated pages to ask for help to those who can spare some money. Funds collected go towards furthering medical research, buying PPEs, or more generally supporting these associations.
One notable example is the Lazzaro Spallanzani hospital for infectious diseases – at the forefront for research and care during the Coronavirus emergency. Their donations page is viewable at this address (in English).