See some of the Appian Way's monuments for free this summer!
For those lucky enough to be visiting Rome in the next few weeks, the city administration has a few surprises in store for you. On top of an "ordinary" list of summer events ranging from music to movie screenings to exhibitions, a number of attractions will be opening their doors for free.
The idea is to gently nudge citizens into leaving their homes and going back to certain areas of Rome that have otherwise been off limits in the past few months due to the social distancing rules against the Coronavirus. Which means that now that borders are partly open, tourists can join in as well!
Appian Way, here we come!
Take the Appian Way, for example. Of course, walking the length of this magnificent Roman road has always been free, but accessing some of its jewels needed an admission ticket. For a short amount of time you will be able to spare those if you wish to visit Cecilia Metella's tomb and the Villa dei Quintili!
The other tomb turned castle (reminds you of anything?)
Cecilia Metella's mausoleum on the Appian Way is one of the most recognizable monuments of the entire area. It owes its popularity to the fact that this peculiar tomb is really a round shaped tower. Much smaller, but exactly the same as Hadrian's Mausoleum/ Castel Sant'Angelo (and, to be fair, as Augustus' Mausoleum at the Ara Pacis).
Indeed, like the former two, this wealthy woman's tomb was also transformed over time in a small castle, and that's what it's also known as: Castrum Caetani. It owes its second name to the once prominent family from the south of the region who ruled over parts of Rome for a number of centuries. They used the castle as a toll station of sorts, exacting money from whoever wanted to enter Rome.
Loved by artists… and an emperor: the Villa dei Quintili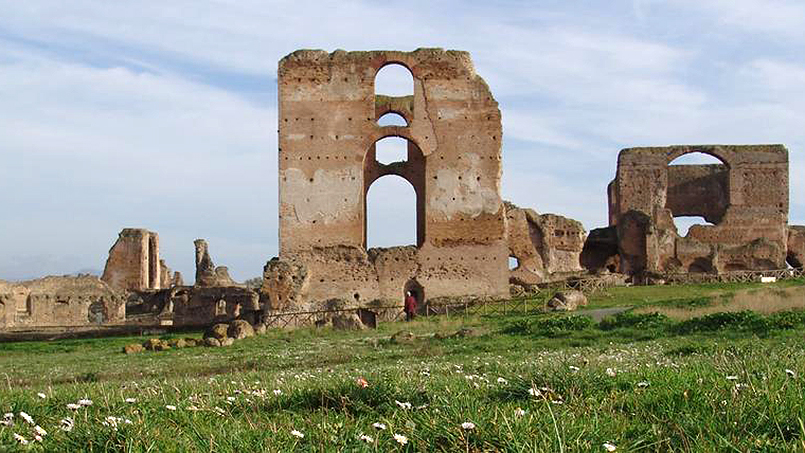 Further along the Appian Way, the Villa dei Quintili used to belong to a couple of brothers, consuls from imperial Rome. The site is extremely well preserved as far as Roman ruins go, due to the fact that part of it was turned into a farm (and a convent, over time).
It has preserved some of the qualities that endeared it to emperor Commodus, who turned it into one of its favorite residences, and to a wealth of artists who dropped by to paint the surroundings starting with the Grand Tour age: the Villa is a peaceful retreat, and it hardly looks like a place just ten minutes out of the bustling San Giovanni district.
How to visit Villa dei Quintili and Cecilia Metella's tomb
While they are stunning landmarks in and of themselves, both sites house a number of manufacts found in their respective areas and are also homes to temporary exhibitions roughly twice a year: this time, the event is their free-of-charge access! Coopculture, the company in charge for these landmarks (as well as the Colosseum), has more information here
and here, respectively. Access will be free until September 13, 2020.
Due to the nature of these attractions, developing mostly outdoors, it's not necessary to book your visit beforehand. The Appian Way is easily reachable by public transport, hopping on bus line no. 118 which leaves roughly every 25 minutes on weekdays from the terminal at the Ara Coeli bus parking, at the foot of the Capitoline Hill/Victor Emmanuel's monument. And don't forget that in the same area you can also visit for free the astounding Museo delle Mura (if you plan on going, make sure you observe the new rules for accessing museums – see this post!).