Cultural differences: How to do grocery shopping in Rome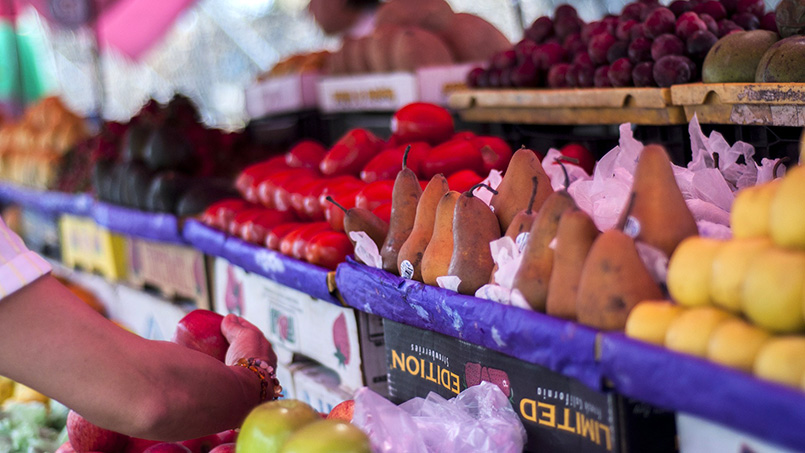 As much as we like to claim that cultural differences between contemporary Italy and the rest of the world are really flimsy and basically non-existent, travelers to Rome often find themselves utterly confused by how to perform ordinary operations during their stay in the city (or the country, for that matter).
On this blog we have previously discussed all those gaps that can ruin your enjoyment of an Italian restaurant. Now, we'll be focusing on how to do grocery shopping in Rome – renting a holiday apartment, you'll be bound to do this sooner rather than later!
The basics: no, those are not the only supermarkets we have!
Let's start by clearing up one major difference – because of its very nature (narrow streets; restrictions on buildings and historical landmarks; limited number of residents) the center of Rome relies on a network of grocery stores, supermarkets, delis and the local equivalent of seven elevens. They all have one thing in common: their small size.
They exist to offer a limited range of services to Romans working in offices in the center or to tourists visiting and because of that, they only carry those essentials they're sure they can sell.
This reflects on the amount of brands displayed, the size of packages, even the opening hours of each store. Sometimes they have no parking at all due to the dreaded ZTL areas; sometimes they don't even have shopping carts (but when they do, you will need a coin to unlock them – don't worry, you will be able to retrieve it after checkout!).
However, keep firmly in mind that the large majority of Romans shops somewhere else: in malls, or in bigger-sized supermarkets in the suburbs or the outskirts of the city.
If you're looking for something you cannot buy in any of the conveniently located stores in the center, we'll be happy to direct you to the nearest big supermarket. Or you can use Google Maps and locate some yourself (using the "nearby" function, which we love!).
With that out of the way, let's talk about more differences!
Opening hours
Major supermarkets chains operating in the center of Rome include Despar, Conad, Carrefour, PAM, Coop. Each chain has their own opening hours, but you can expect them to be open non-stop between 8 and 9PM, or even 10PM. If you want to make sure there are no bank holidays or special circumstances limiting their opening hours, simply use Google to look for the supermarket closer to your location (we list them in our information folders) and you'll find updated times.
With delis and family-run grocery stores, opening hours are a little bit trickier: some may operate non-stop while other may be closing down at lunch to send their employees on a break. The only way of making sure is check the timetable that should be hanging in each store's doors/windows.
Finally, seven elevens are usually run by south-Asian employees who tend to open earlier, even as early as 7.30AM, and close later – some continue to work long into the night.
While it should be obvious, it bears repeating: open air markets are only open until roughly lunchtime.
No, you can't sample the goods
This tends to happen more in open-air markets, but we heard about it going on even in supermarkets: it's considered extremely rude, to the point of being compared to stealing, to sample any kind of produce from the stalls or the shelves. Please, don't do it: if the shopkeeper allows it, they will have to be the one to offer/suggest it to you, not the other way around.
Fruits and vegetables: hygiene and manners
If you're at an open-air market ask the owner of the stall you're interested in if you can choose your own vegetables or fruit. Even when it's obvious that other people are helping themselves, please do ask first: they may be regulars, or members of the family running the stall.
The shopkeeper will toss you a paper bag (usually) and you will be able to choose whatever you like. Please don't comment on spoiled produce, or make a show on discarding it: if you find something rotten, be as discrete as possible and don't attract attention to you or it (it would be bad publicity to the stall owner).
In supermarkets, you're supposed to wear plastic gloves for the same type of operation, with the main difference being that you will need to weigh your fruits or vegetables – there will be scales throughout the fresh produce areas, with each type of fruit or vegetable clearly marked with a number ID.
Put what you picked inside a transparent plastic bag (provided for free), put that on the scale, punch in the corresponding number for what you chose and the scale will give you a white sticker with the price of each different type of fruit or vegetable (to be clear: if you picked 4 different types of vegetables, you will need to repeat the operation 4 times – every vegetable will have their unique code). Put each sticker on every single plastic bag you've used for bagging your produce and continue your shopping until you get to the counter.
Some supermarkets in Rome weigh your produce at the counter, but not those in the city center.
Other types of food
If buying fresh meat or seafood, note that all weights are expressed in kilos (and prices displayed, just like with produce, are intended per kilo). If you're unsure of how much you should be buying, ask the butcher/seamonger/employee how many people you need to feed with the amount you're getting!
Since a former guest asked us specifically about it: eggs are sold at room temperature (in supermarkets they usually are found by long-life milk) but we put them in the fridge as soon as we get home. Why is that? It's one of the greatest mysteries of grocery shopping!
If buying cured meats in supermarkets, you can also find handy pre-weighted plastic boxes with just the right amount of prosciutto or salame for 1 or 2 people: those will help you if, again, you're confused over amounts.
Generally speaking, one hundred grams or two hundred grams are enough for a couple. If you need to order at a counter you can say "un etto" or "due etti" (pronounced "oon ah-ttoh" or "doo-eh ah-ttee", respectively). If you are big eaters, just increase the amount!
Important note: in some supermarkets and grocery stores you will find people queueing for their turn to order cured meats, cheese or bread from their respective counters (when available). Locate a small machine giving away numbered tickets and retrieve one of those before inadvertently cutting in line!
At the counter: bagging and paying
Again, some bigger supermarkets have operators at the cash register who will bag your groceries for you. Because the stores in the city center lack space and are usually crowded, you will have to do it yourself.
Plastic bags for your groceries are charged a few eurocents per bag. This is to discourage you from producing more plastic. Most supermarkets offer reusable bags or tote bags at checkout. Or you can use one you brought with you.
People working the counter typically speak some English, but don't expect complex conversations.
You will be able to pay with your credit card – unless your bank has limitations of some kind on the Italian territory – or cash. Cash will be, conversely, the only available payment option in 98% (we're taking a wild guess here!) of open-air markets. Please also note that in open-air markets you pay separately each stall owner.