Rome's new rules for tourists (and residents): the bans, explained!
These past few days we've seen a surge of fines (here, in Italian) to those tourists who are overwhelmed (as is everyone!) by the extra heat and think they can find solace by jumping or dipping their toes in the fountains of Rome.
While that remains a misdemeanor in the city (and in other areas of Italy, too!), this is not the only rule tourists and residents alike should follow.
For the first time after more than 70 years, in fact, the city police ("Vigili Urbani", AKA "Polizia Municipale" – these days you see them dressed in white shirts or blue jackets/polo shirts with the lettering POLIZIA ROMA CAPITALE on their shoulders) has updated its fines to mirror the changing times.
While general common sense rules still apply (basic examples: urinating in public or spitting on the ground should be a big no-no regardless of specific legislation!) some new restrictions have been introduced, the whole concept behind the spate of new norms being "maintaining decorum", which seem to be the keywords to the new "Regolamento di polizia urbana", as it's called in Italian.
What follows is a list of the most obvious as well as outright bizarre standards in the code. Please note that all cities in Italy will have something similar, so if your travels take you out of Rome, do keep in mind that the same rules will probably apply somewhere else too.
Alcohol consumption in public areas
Pub crawls, which were so prevalent up to a few years ago, have been banned.
It is also prohibited to drink alcohol in glass containers after 10PM (plastic containers will be fine), while no alcohol can be had or sold after midnight. This applies to outdoors drinking, so you're perfectly fine having cocktails indoors, whether it's at a bar, club or… your accommodation.
This measure has been in effect for some time now and keeps getting extended, funnily enough, because Rome's mild seasons keep getting longer and so drinkers tend to spend more time outdoors than inside any establishments. This action has also been deemed necessary to protect landmarks and monuments from vandalism (see below!) and, more generally, littering.
Food consumption in public areas
Because it's so closely related to alcohol consumption, Rome's City Council has chosen to stress some rules linked to food consumption in the open. Impromptu picnics on the steps of churches, obelisks or any other monument are maybe romantic, but a thing of the past – they won't be allowed. Eating in the open will only be possible in restaurants with outdoors seating, in your rented apartment's private terrace (like this one on Vicolo del Piede, in downtown Trastevere!) or in public parks, with a proper picnic.
Mind you, the new code doesn't have a problem with people eating gelato and walking at the same time: what is against is individuals literally camping by Rome's famous landmarks!
Protecting the city's monuments
Speaking of landmarks, happy couples attaching love padlocks on bridges or gates will be fined, as will be those clueless visitors who use pushchairs or drag wheeled suitcases on such historical sites as the Spanish Steps. The concept, which should be obvious enough, is to preserve the original looks of these attractions, while impacting as little as possible on their appearance.
For the same reason, even though it's so photographable!, hanging laundry between two buildings (a common sight in the old city) is prohibited. And, as mentioned at the top of this post, it will be considered an offence to jump into any fountain: the codeword, as for other restrictions, is "respect".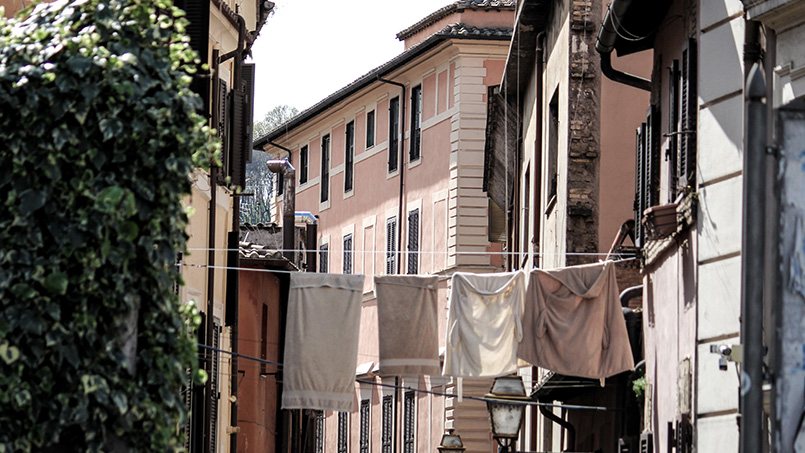 Other bans
There has been a crackdown on centurions as well as other scammers/sellers approaching travelers out of the main sites in Rome: not only they will be fined on the spot if caught, but they will be expelled from the city for a number of days (see below for what happens if you get fined).
This also includes "official looking" types pestering you to sell you skip the line tickets. If you see some (including those dressed like ancient Romans) and they seem to you like they're still working as usual, don't hesitate and report them to the police.
Read more here about how to deal with street sellers of any kind in Rome!
The new regulations also ban people from "singing or playing" on public transportation (possibly to address the rise of unauthorized buskers in subway cars), and from walking around topless.
More bizarre restrictions include touching the metal of the nasoni (the small city fountains you see everywhere) as you drink from them. You should cup your hands underneath the water or place a finger beneath the mouth of the spout so that water arches out of the little hole of the spout itself.
Shop owners should also refrain from selling items that have an erotic undertone or outright sexual meaning. This should mean that the hideous penis-shaped pasta that is sold in some souvenir shops will finally go away!
The list of bans goes on and includes notes on dumpster diving, graffiti, attaching stickers or posters on public property or buildings, using puppies or animals to beg for change…
What are the consequences if fined?
People breaching any part of the new scheme will be fined up to 450 Euros. Judges will be able to make a ruling on so called DASPOs, ie. "anti-social behavior orders", which means particularly unruly individuals, regardless of their nationality, will be removed from the city for a number of days (the average length is 48 hours, but there is going to be a maximum of 60 days for repeat offenders).
The whole list of restrictions can be found at this address (in Italian).