Roma World: a new ancient Rome-themed park in the city!
by C. P.
August 4, 2020
1
One of the main peeves of many tourists coming to Rome is the lack of actual Roman-themed entertainment around the legendary Seven Hills: famous landmark do not feature re-enactment shows on their premises, and just a few private organizations set up events of that kind, for example during the city's birthday.
Finally, though, this particular type of gap has been bridged! Say hello to Roma World, a 5 hectares (over 12 acres) devoted to the history of the city in the countryside south of the city. Featuring a real Roman camp, it aims to become a must-visit for those travelers wanting to go back in time to Imperial Rome.
From Cinecittà to ancient Rome
As the name suggests, the newly founded Roma World is closely linked to another popular amusement park of the Eternal City: Cinecittà World. It indeed sits on the same plot of land of the more famous movie-centered attraction.
The concept is completely different, though: at Roma World, you can even sleep in the park, for a complete, immersive experience. And you can eat like a Roman, too, in a cafe aptly named "Taberna"!
What kind of shows are on at Roma World?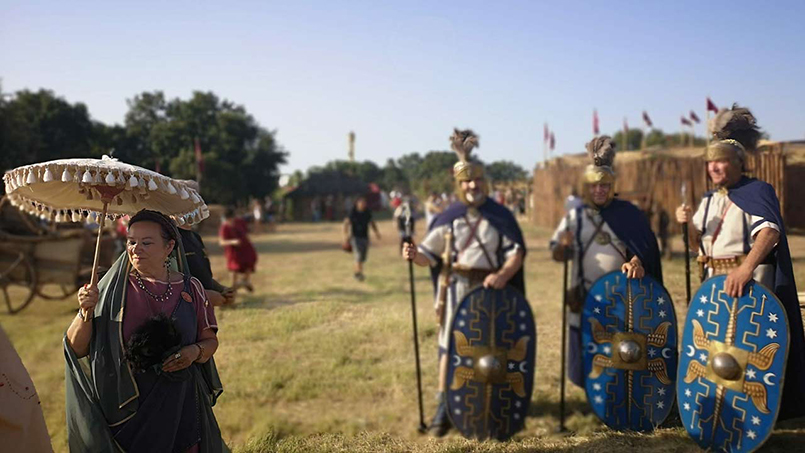 Visitors can participate in a chariot race, or they can attend shows featuring birds of prey raised the old Roman way. Another big hit (pardon the pun!) is archery lessons. And of course Gladiators are part of the schedule, here, and they will fight each day for their audience!
How to get to the Roma World park?
The Roma World theme park is open most days from 3PM to 10AM of the following day so as to accommodate visitors who want to sleep in. A calendar is here (click on the yellow squares there to see a detail of the program). The park is on Via di Castel Romano, 200, south of the city center, and for those unable to get access to a vehicle, the park itself provides a shuttle service departing from the EUR Palasport subway stop at 5 EUR per person, one way. Price of admission varies depending on whether you'd like to sleep over or eat at Rome World.
More information on this and more, including tips on accessing with pets or visiting with a walking disability, can be found here. So… See you there?