Roma Pass & Omnia Card: Are they worth it?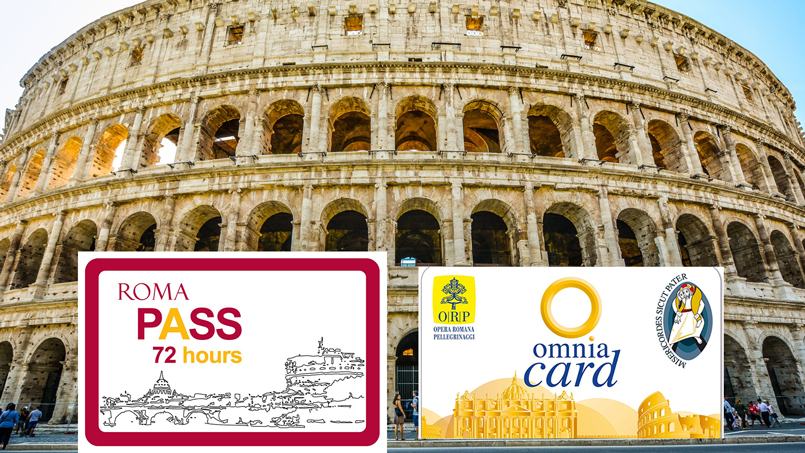 Combined sightseeing cards are increasingly popular worldwide, and Rome is no stranger to the trend: the city offers a few of them, with the two most famous being the Roma Pass and Omnia Card, reecognising that Rome hosts two capital cities for two different sovereign states.
The breakdown: Why are there two different Rome passes?
In fact, the Roma Pass is issued by the Italian government in conjuction with the municipality of Rome and covers major sites in the city, as well as allowing owners to ride for free on the public transport network. The Omnia Card, on the other hand, is issued by Vatican City: this not a minor detail, as it follows that the latter can only regulate the access to those landmarks that are part of Vatican City itself. And there is no mass transit covering Vatican City so… You do the math! The Vatican houses the Sistine Chapel, which is in turn part of the Vatican Museums. And obviously St. Peter's Basilica is there, which has a free entrance, though! So here's the catch: so as to make it more interesting to potential buyers, an Omnia Card really is a Roma Pass with Vatican extras.
How much will a Roma Pass and Omnia Card cost?
Those differences reflect on the total price of both cards: the Roma pass either costs 28 Euros, lasting for 48 hours, or 38,50 Euros, lasting for 72 hours. The Omnia, on the other hand, is either 55,00 Euros (for 24 hours) or 113,00 Euros (for 72 hours). The whole of the Omnia Card services are listed here while Roma Pass has them here.
Choosing one over the other is obviously a personal matter and you should be considering at least the following before you go out and get one:
– Is this your first visit to Rome?
– (Regardless of the above) Will your visit focus on the Vatican Area alone? Or the Colosseum/central Rome area alone?
– Have you got limited time in the city?
– Do you have mobility issues that will require you to use public transportation extensively?
– Do you dread queues just as much as we do?
Regardless of the type of card you go for:
– Both will offer a number of skip the line and free entrances to major landmarks as well as discounts to other museums or monuments; The number of free entrances will be higher in more expensive type of cards;
– Both passes will offer unlimited access to the public transit system;
– They both come in handy for those visitors who do not wish to use a tour guide as part of their experience in Rome.
From Home to Rome's take on Roma Pass and Omnia Card
As From Home to Rome, most of our vacation rentals, our apartments and penthouses are in the city center – so they are within walking distance from most landmarks. Obviously some are not exactly around the corner, but then a simple single ride ticket is enough to get to them – at 1,50 Euros each, tickets in Rome are some of the cheapest in Europe. And if you think a bunch of single-ride tickets are not enough, transport passes are much cheaper than the version included inside the passes themselves.
Also to be considered: most buses and subway trains don't even reach some of the most important areas, like the Pantheon or Fontana di Trevi, on account of their being smack dab in the middle of the archaeological areas.
Another thing to remember is that if you're traveling with kids, they're likely to be offered free rides on public transportation anyway, or free entrances to many landmarks – make sure you double check with the transport agencies, or with the monuments' official sites.
Among other considerations to be made:
– If you've bought a tour guide, that usually comes with tickets – so the free entrances in the passes would be useless to you;
– If yours is a repeat visit, you might want to visit lesser known areas of Rome not covered by the selection offered by the cards;
– If you're staying for a longer period of time, the pass may run out and you'd have basically wasted it
Other combined cards available in Rome
Archaeologia Card: allows entrance to some of Rome's major archaelogical sites and associated museums:
– Colosseum, Roman Forums and Palatine Hill
– Baths of Caracalla
– Villa of the Quintilii
– Tomb of Caecilia Metella
– Baths of Diocletian
– The National Roman Museum at Palazzo Massimo alle Terme
– The National Roman Museum at Palazzo Altemps
– The National Roman Museum at Crypta Balbi
Full price is 25 Euros, and the pass can be used for seven days. Students between 18 and 25 years can buy one for 15 Euros.
MIC: can be used in all museums belonging to the city (so think Capitoline Museums rather than the National Gallery of Modern Art!) and it lasts for one year. At just 5 Euros it's a great opportunity, as the number of visits is unlimited. There is a catch, though: the MIC can be only bought by actual residents in the city of Rome. Therefore it's only suitable to locals and expats working here, not tourists.
Turbopass: it's like an Omnia Card combined with a Roma Pass, except it won't offer free public transport, as it's on sale by a private company. It's the more expensive card on sale, particularly if you go for 6 days pass, priced at 159,90 Euros.