Baths of Caracalla: night visits available until mid-October!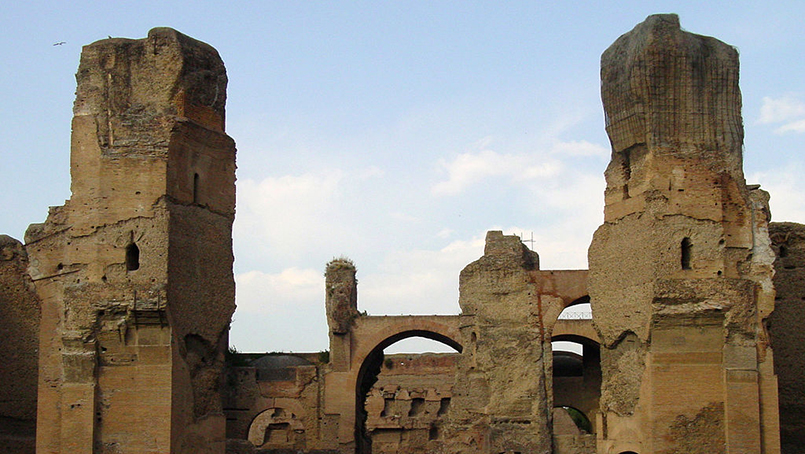 To most visitors, Rome's Baths of Caracalla are but the very scenic setting to the Teatro dell'Opera's summer season. Actually, these majestic thermae (called "Terme di Caracalla" in Italian) are one of Rome's most fascinating attractions, and some that have inspired other important monuments, among them the Baths of Diocletian by the Termini train-bus hub and the Chicago Union Station!
The Baths of Caracalla are known as the second largest public establishment of this kind in Rome and are among the best preserved historical structures in the whole of the city. In spite of this, most people only know of them because of the events they host every summer when, in fact, they are a tourist attraction.
Now that open-air opera concerts and ballets are over for the year, travellers will have a chance of visiting the ancient baths at the exact same time when shows were on: until October 18th, guided tours will be available every Tuesday and Friday, from 7.30PM to 10.30PM, at a very reasonable price: 18EUR per person by booking online (through the CoopCulture website – which also handles ticketing for the Colosseum, among other landmarks). Tours will be available both in English and Italian and will last for about 75 minutes, granting access to a maximum of 30 people per visit.
Of course the Baths of Caracalla will also be available for a daytime visit – in that case we recommend trying the 4D tour, a VR experience with a provided headset which will show what the baths looked like back at the time of emperor Caracalla. However, if you have limited time in the Urbs Aeterna, we suggest you don't miss this limited time event and treat yourselves to a fascinating, atmospheric experience, the likes of which you'll rarely have again in Rome!
If you're interested in a guided tour of the Baths of Caracalla, do consider choosing one of our partners, the lovely people over at Joy of Rome – if you'll mention you're staying at one of our managed rentals, they'll be able to offer a discount to this specific tour and any other of the choices from their catalogue!
The Baths of Caracalla are located by our managed apartment on Via Gallia, a short walk from the subway station "Circo Massimo" or easily reachable by bus from the center of the city.