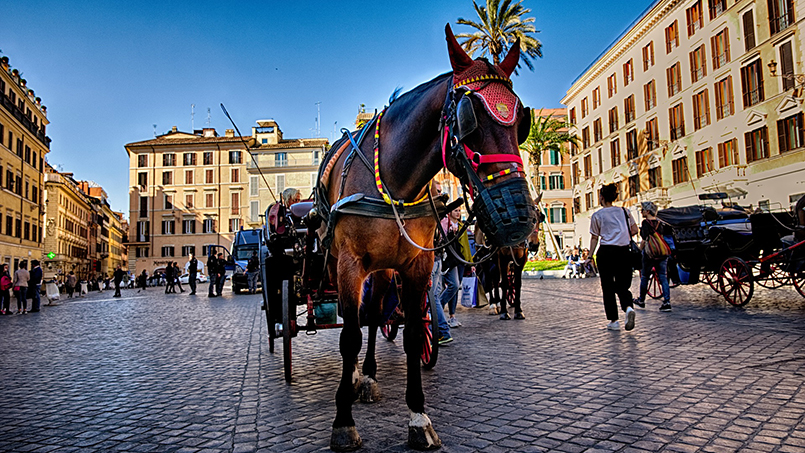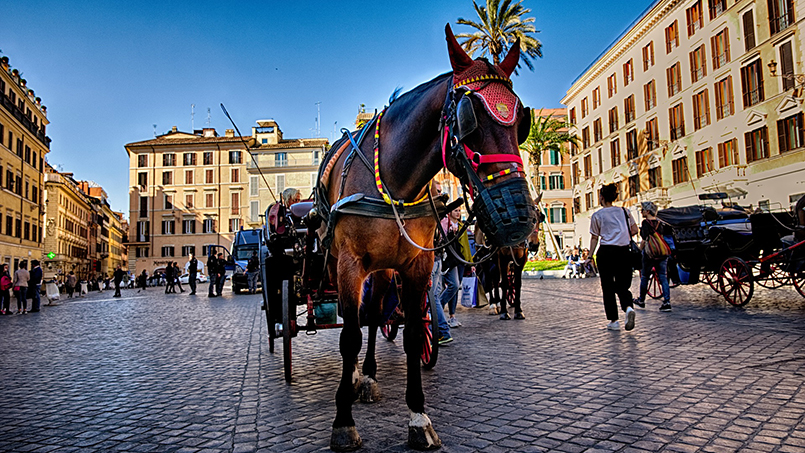 Whatever your views on animal rights are, there is no denying that the horse-drawn carriages you encounter while visiting Rome are picturesque and one of the old city's most photographed scenes, as they take tourists from sight to sight. These particular vehicles are called "botticelle" in Italian, and they're an attraction in their own right.
Mind you, at From Home to Rome we don't condone in any way the exploitation of animals, particularly at a time when transportation inside the center of the city is much more easily achieved in other ways. However, botticelle are traditional to Rome, and even though it now seems like they're on the way out you might want to know what they're all about.
Around for millennia
Indeed, the botticelle have been a staple of Rome for much longer than it looks. What you may see now standing by monuments is but the "modern-looking" version of the ancient Roman carriages. The name itself refers to the fact that they were not used for human transportation, at all: "botticelle" literally means "little barrels", because these trolleys used to bring goods of various types to shops as well as houses.
This all changed, obviously, as cars and trucks became popular in Rome, and while it was common to see both peacefully coexisting until the mid-twentieth century, when the whole of Italy became a tourist destination… the botticelle turned to the growing number of visitors. For many travellers coming from completely different backgrounds, having such a picturesque experience helped them make a connection with the glorious past of a city of many contrasts – one that was modern or trying to be so while at the same time remaining strongly tied to its historic roots.
Botticelle rides – How much do they cost?
A botticella ride is one of the most singular experiences you can have in Rome, similar to getting on a gondola in Venezia. And similarly priced, too.
If you have that kind of money on you and you're interested, it's not a bad idea to try and haggle a little bit with the drivers before you hop on. However, be aware that there is no price list and every botticella will have a different price for a ride that is usually between 30 minutes and 1 hour long (but different lengths can obviously be arranged, depending on one's personal preferences).
Botticelle in the present day: the great controversy
Now that that is out of the way, we would be remiss not to mention that botticelle don't get much love, these days. The horses are objectively fatigued and, in some instances, mistreated. They get scared because they share the streets of Rome with all kinds of speeding, roaring vehicles, and drivers are not known to be particularly gentle with them.
Animal-rights groups as well as Rome's politicians of different parties have tried for years to ban them altogether, citing the dire conditions of the animals. The association for the botticelle drivers has always countered by saying that cruelty against the horses is absurd and counter-productive, as they're the real "breadwinners" in this particular line of work.
The fact remains that the botticelle's number is dwindling, and only 32 carriages are still working. And you may not be able to see them standing by the Pantheon or the Spanish Steps anymore: Rome's environmental committee has decided that rides will only be available inside the city's public parks, so as to reduce the stress that the horses endure.
If you're still interested in seeing one live, maybe go for a ride, and you're staying in one of From Home to Rome's managed accommodations, it shouldn't be hard to locate one: Paradiso Penthouse, for instance, is both walking distance from the Villa Borghese park or the Spanish Steps, while places like Casina Rugantea or the San Pietro Lovely Apartment are closer to one of their preferred spots, the Vatican. Botticelle-spotting – we may just have come up with a new kind of pastime for Rome!